Pent-up demand following the hard lockdown and low-interest rates are driving serious growth in home loan applications, with bond originators confirming first-time buyers are finding a sweet spot in the "R750k to R2m price band".
Ooba data shows that in June 2020, 68% of our home loan applicants were asking for a 100% bond.
"This is 15% more than in June 2019, and banks are still coming to the party on these applications, with our approval rate on 100% bonds tracking at over 80%," says Rhys Dyer, CEO of Ooba.
Dyer also notes that there is a higher rate of lending without a deposit, this is reflected in the steep drop of 36.8% in the Average Deposit as a Percentage of Purchase Price year-on-year for the second quarter.
"Similarly, the Average Deposit for First-Time Buyers also fell by 34.8% for the same period."
Carl Coetzee, CEO of BetterBond says, "Since January 2020, the prime lending rate has dropped by an unprecedented 27.5%, from 10% to 7.25%, with the potential for additional rate cuts before year-end.
"Not only do different bond quotes help secure the most favourable interest rate but the data also indicates that the more banks that are applied to, the more favourable the interest rate is likely to be.
However, Dyer says in terms of interest rates offered by banks, "the average rate offered has increased by 0.15% year-on-year for the second quarter".
"The cost of funding for banks has increased and this increase is being passed on to homebuyers. This means banks are offering fewer home loans at below prime lending rate than previously, and therefore it is even more essential to use a home loans comparison service to secure the best interest rates in the market."

Ooba's latest statistics show that homebuyers who only obtain a single quotation for finance would have an "interest rate that is 1.01% higher than if they had used a bond originator to obtain comparable quotations from all major lenders".
The table below shows BetterBond's estimate interest rate concession based on the number of banks applied to.
"These numbers highlight the difference a seemingly small change in the interest rate can make over a 20-year period. It also highlights the point around why it makes sense to apply to more than one bank," says Coetzee.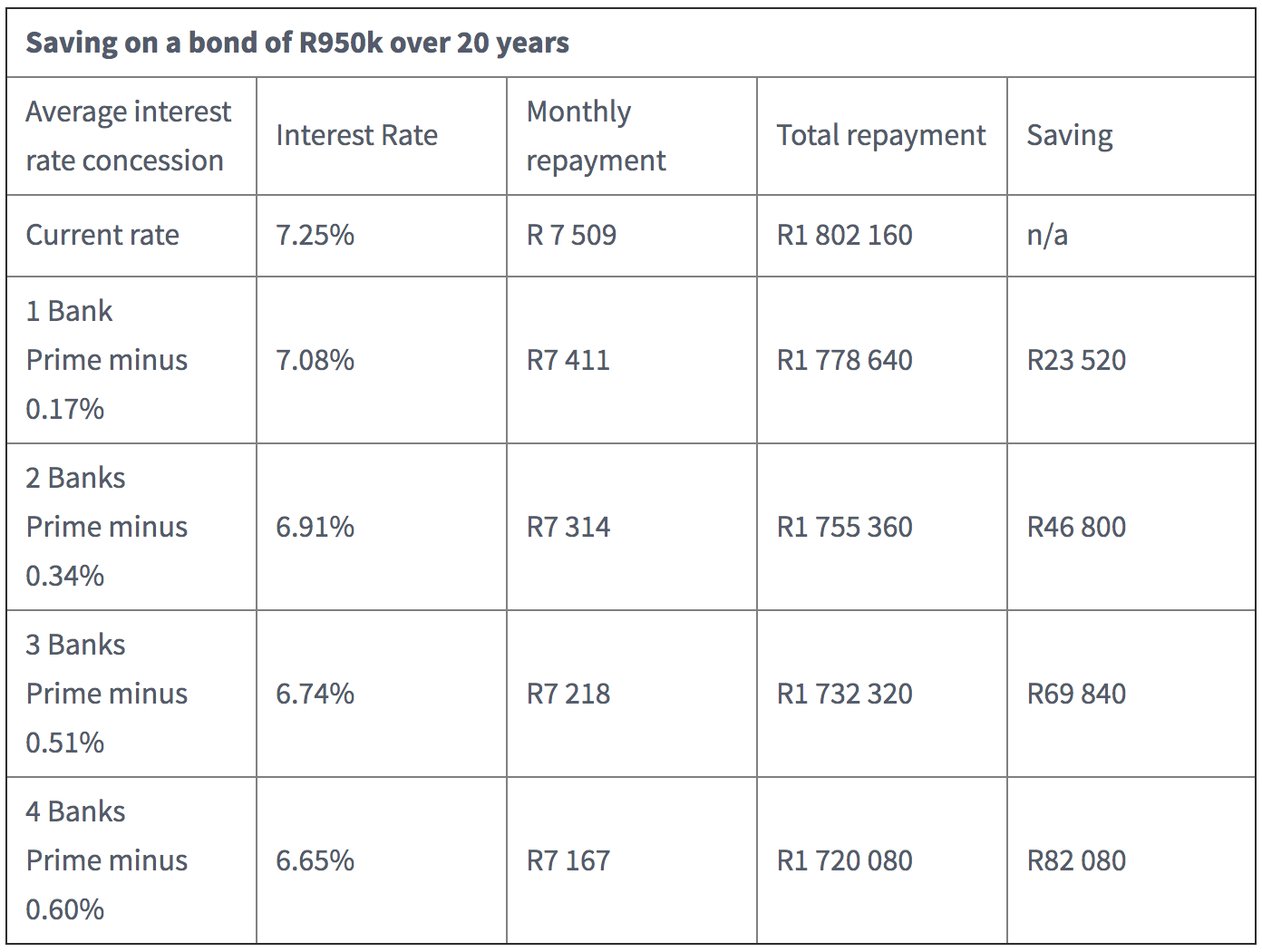 "BetterBond's own stats show that the average approval rate when applying to one bank is 53%, but this number goes up to an impressive 79% when applying to four banks," says Coetzee.
Keep the following in mind when opting to use a bond originator:
Bond originators are paid a once-off fee by the banks for brokering the deal with the client, so there is no cost for the customer.
Financial institutions understand that a home loan application, that come via a bond originator is also being submitted to their competitors, which often makes them more open to offering the client the best possible rate for fear of losing the business to another bank.
Using a bond originator streamlines the application process, with the applicant only needing to complete one set of documents.
Bond origination consultants also know exactly what the various banks require from applicants and what their different home loan products offer, so they can tailor the application to ensure that it has the very best chance of being approved.
Courtesy of Property24

Need more information? Fill in the form below and we will contact you!
This article is a general information sheet and should not be used or relied on as legal or other professional advice. No liability can be accepted for any errors or omissions nor for any loss or damage arising from reliance upon any information herein. Always contact your legal adviser for specific and detailed advice. Errors and omissions excepted (E&OE)