Styling a dining room involves significantly more than pairing the right table and chairs (although that is quite crucial, too). Have you ever thought how your room's lighting can affect… well, everything? Especially in a space like the much-loved dining room where family bonds and friendships are cemented and nurtured over great food and company?
Let's take a look at 11 things to consider when choosing and styling your dining room lights this year.
1. Dining room lighting options: Pendants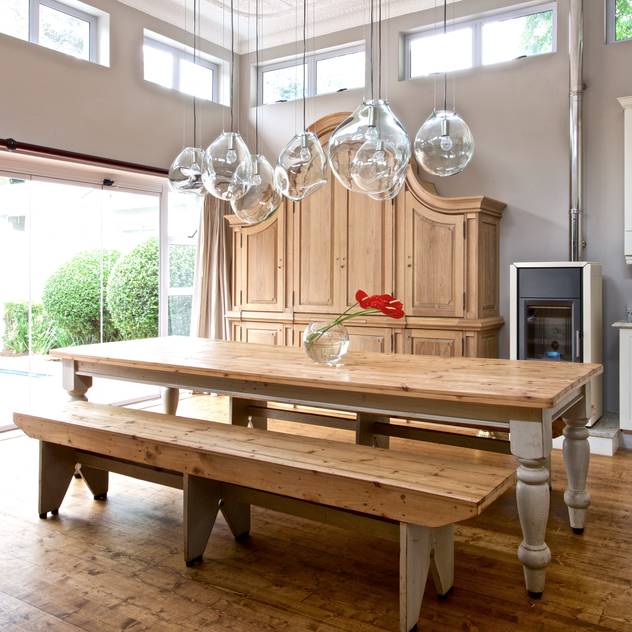 Want to add a modern touch to your dining space? Hang some pendants above your table! Opt for a trio of three smaller designs for a stylish look, or choose one large piece to make a style statement (and yes, lighting fixtures can also be focal points in a room).
2. Dining room lighting options: Chandeliers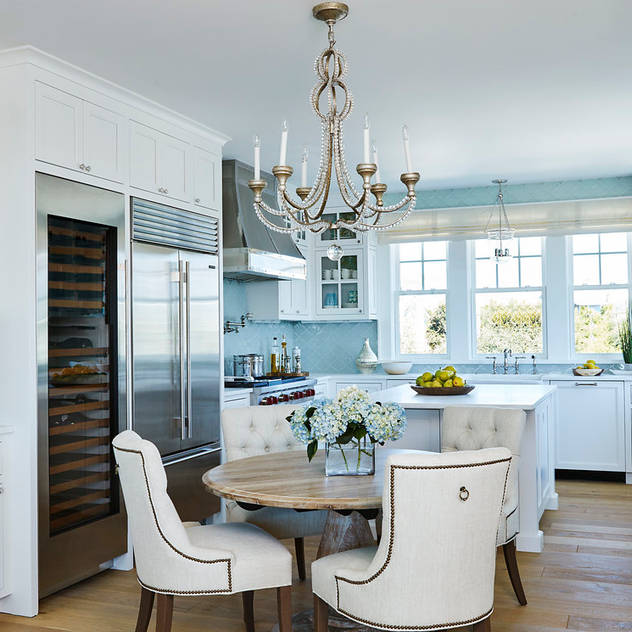 Just like pendants, chandeliers must align with a room and dining table's size for the design to work. As a rule of thumb, chandeliers must have a diameter about a half to two-thirds the length of the dining table.
3. Dining room lighting options: Flush-mounts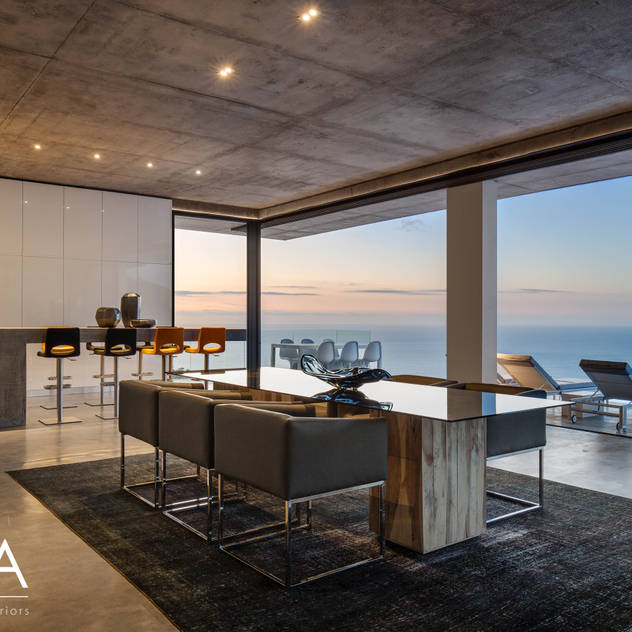 For smaller spaces or casual dining nooks, flush mount lights can be an ideal choice. Pick one that rests flush against the ceiling if your dining room has low ceiling height, or choose a unique look and go with a semi-flush design hanging down a few inches.
4. Dining room lighting options: Wall sconces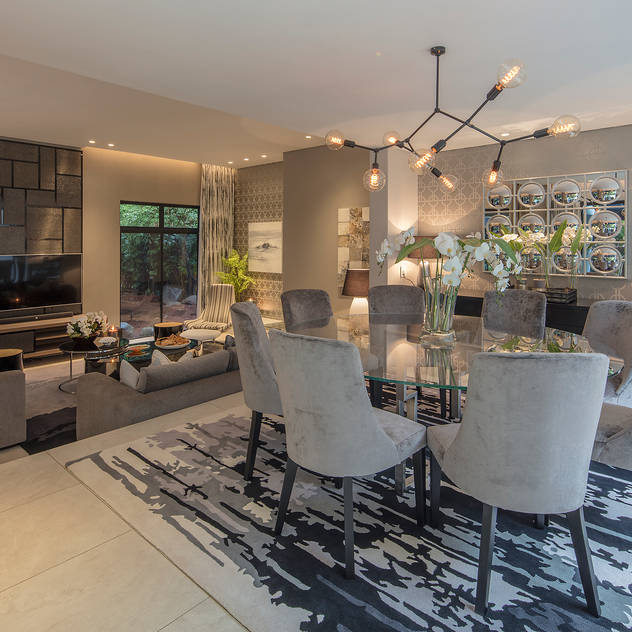 As the name suggests, wall sconces are mounted to walls and not ceilings. Their light source is usually directed upwards and used to flank buffets, mirrors and artwork.
5. Styling your lighting: Shapes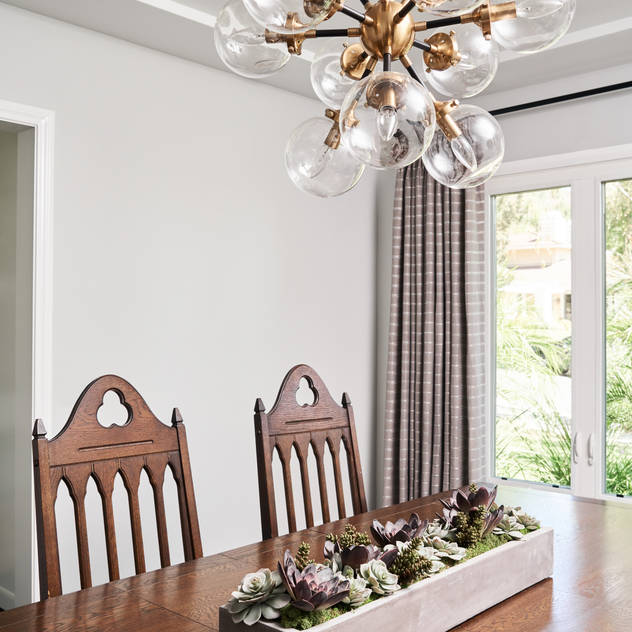 You need to choose a light fixture that relates to your dining table (not the room) in terms of size, shape and style. Round fixtures, like chandeliers, are terrific with circular tables, while linear fixtures greatly enhance the look and feel of rectangular or extension tables.
Hint: Use your pendants to complement your table shape – grouped together for round tables and neatly hanging in a row for a rectangular one.



6. Styling your lighting: Proportions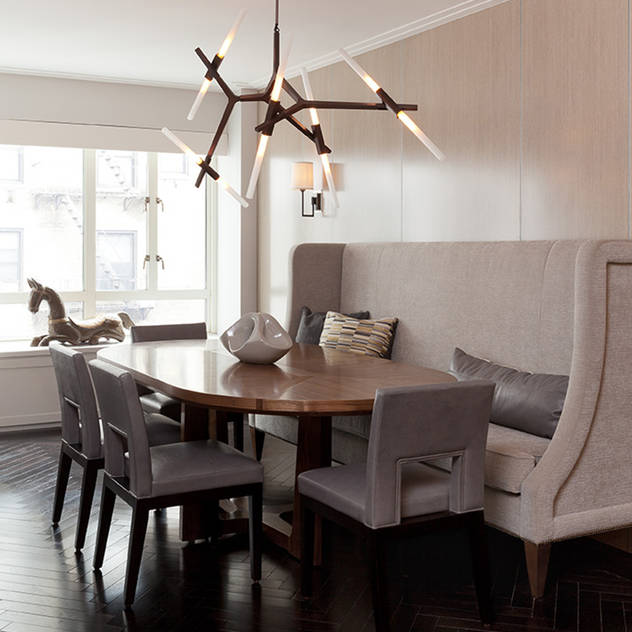 A dining room light needs to be at least 12 inches smaller than the dining table. That means for a 4-foot wide table you are looking at a light that's about 2 feet wide.
In terms of proportion, linear suspension lights need to be between 1/3 and 2/3 of the table's length. And for long, rectangular dining- or extension tables, linear pendants and chandeliers remain your best bet.
7. Styling your lighting: Hanging high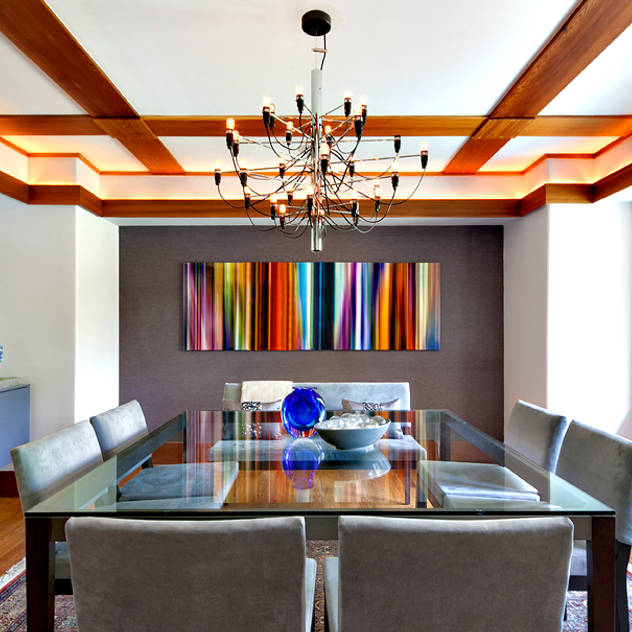 Regardless of how many tall guests you're expecting at dinner parties, all dining lights must hang approximately 30 inches above the table surface. And keep in mind suspension length when considering lighting fixtures.
8. Styling your lighting: Ambiance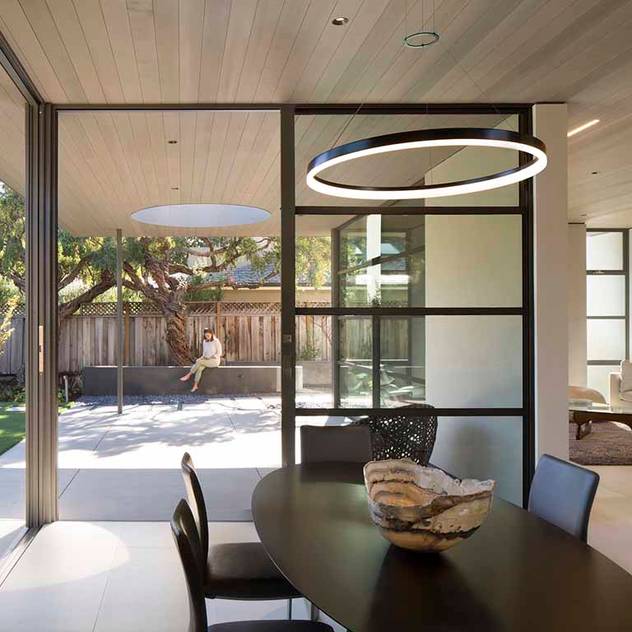 Trust us when we say dimmers are timeless. And that you should install a dimmer switch with your dining room chandelier, plus make sure the fixture itself is dimmable (remember that installing a dimmer and a light fixture that's dimmable are not the same).
9. Styling your lighting: Layered lights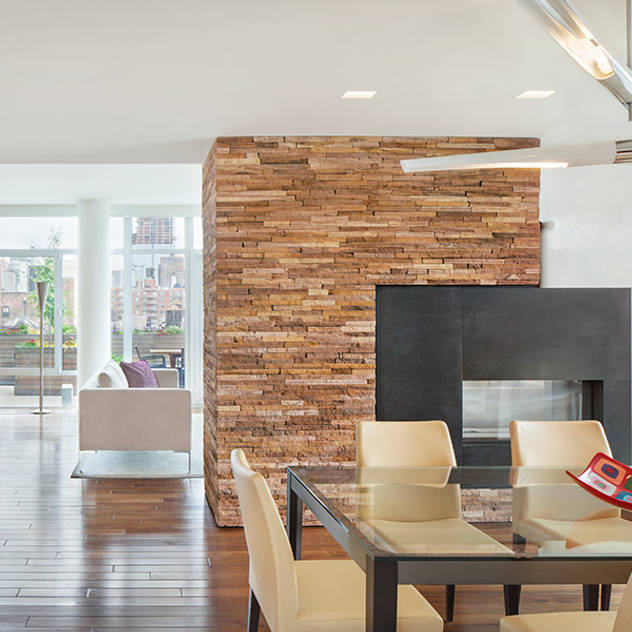 Layered lighting is strongly recommended for all rooms. And because a stunning chandelier in your dining room will generally offer low levels of light output (they're more intended to set the mood and be admired), it's suggested to boost the illumination factor via wall sconces, recessed lights, perhaps a floor lamp…
Hint: Make layering your room much easier by thinking vertically (layering it from the ceiling down to the floor) and horizontally (from the room's one side to the other).
10. Styling your lighting: Spacing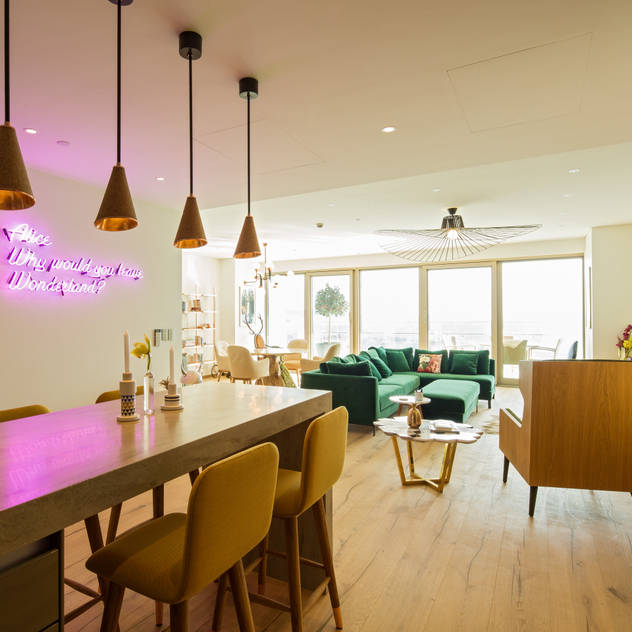 If you've opted for a grouping of pendants dangling above your dining table as the table's main lighting source, keep in mind the table's length when deciding where to hang them. Bestow upon your table a consistent glow of light by spacing the pendants according to the table's length, and/or the number of seats.
11. Throwing the best shade
Lastly, what shades will you consider for your dining room lights? Does it even matter? Of course, and here's why… Fabric linen shades boost a welcoming glow. To up your ambient lighting's brightness, go with lighter beige or white linen. Black linen is more conducive to subtle, romantic lighting. Clear glass shades are ideal for boosting an entire room's illumination with bright ambient light. And remember that clear glass shades are perfect for filament bulbs. Opal glass shades are better suited for light with a gentle glow. Metal shades focus the light downward, which is why they're so popular for subtle, low-key lighting above the table (or as accent lights by your sideboard).
Courtesy of Homify, Johannes Van Graan

Need more information? Fill in the form below and we will contact you!