While often treated as an afterthought, the style and design of a home's entryway is one of the most crucial spaces to have. Think about it: it is the ONE part in your home that every single person who enters it will see. And for some, it's the ONLY part of your home that they'll get to see. So, why would you not want to put a little extra effort and style into crafting not only a beautiful entryway, but also a positive first impression for visitors?
And yes, there is so much more you can do to give your home's entryway (regardless of its size or shape) a little beauty and functionality that surpass the old welcome mat…
1. Something elegant
We know that not every entryway has the space for this impressive L-shape layout. But, should you ever find yourself with some extra legroom, consider how this entryway manages to include lighting, reflection, flat surfaces, accessories, and even a piano!
Perhaps one of our professional Interior Designers/Decorators can give your entryway (and maybe even your kitchen, bathroom, living room… ) the style it craves.
2. Use your floor (space) wisely
No legroom for tables and/or floating shelving? This example shows how just a little bit of floor space can still flaunt a handful of accessories (when care is taken in terms of sizing, spacing, etc.)
3. Colourful and creative
Not left with many options to make your little entryway stand out? That's the thing about colour: you can ALWAYS rely on it to change a room's vibe, highlight certain features, etc.
Do you feel this open-style layout would have had the same visual impact were it not for that orange sofa and purple wall?
4. Look up (if you can)
If you have the ceiling height, spread some style upwards via wall art, decorative lighting (how amazing are those extra long pendants dangling from above?), a skylight, etc.
5. A fresh welcome
Something lush and fresh to greet your guests at the door? And this is not only about adding more décor to your space, as plants and flowers have been proven to help cleanse indoor air, add enticing scent, etc.
6. Keep clutter away
Don't forget to commit to decent storage, even if it is just a seated bench and/or some wall hooks for hats and scarves.
7. A natural paradise
An abundance of raw, natural touches (from those humongous timber doors to the lushness of the front garden and potted plants) makes this front entryway stand out most superbly from your average design
8. Too shy to share?
How about closing off your entryway from the rest of your open-plan home, as this example shows us with a simple elongated wall design?



9. Take care of your exteriors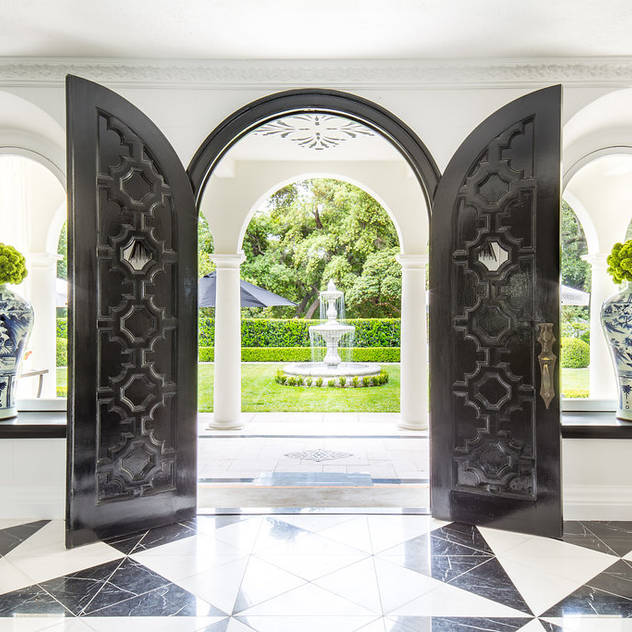 As you can see, an abundance of natural lighting and crisp garden views flood indoors here. Now, what if that front garden outside hadn't been that neat and stylish?
10. Tiny, yet super effective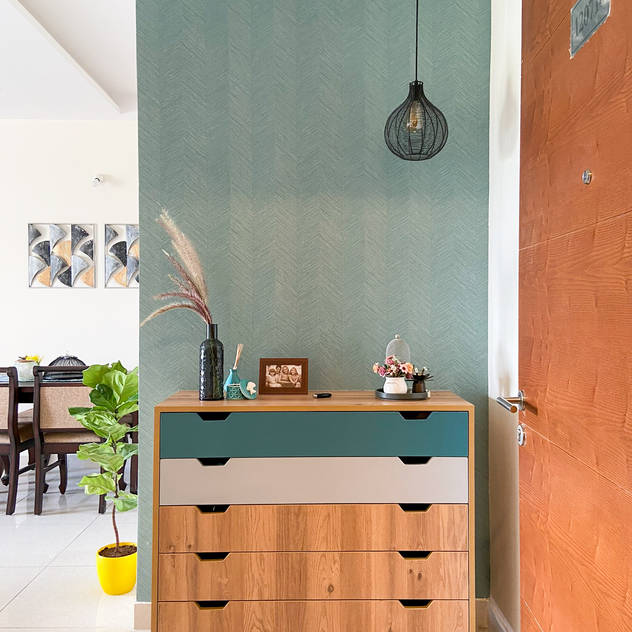 A cabinet for storage, a handful of personal touches (framed photographs, etc.), adequate lighting for a touch of sparkle, plus a splash of fresh colour—what's not to love about this charming entryway?
11. Flaunt your art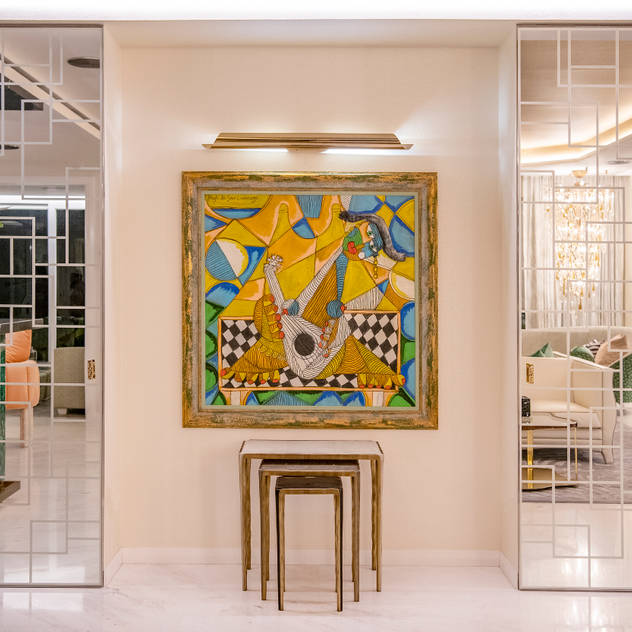 But just make sure your art is flauntable (i.e. not deemed too risqué for some, like kids). And remember to include adequate lighting to make the most of your wall art, sculptures, etc.
Hint: For showcasing your valuable artwork, go with LED lights. They don't emit heat, damaging ultraviolet rays or infrared light. And although they cost more initially, they are very energy efficient and enjoy a long lifespan.
12. Benches and chairs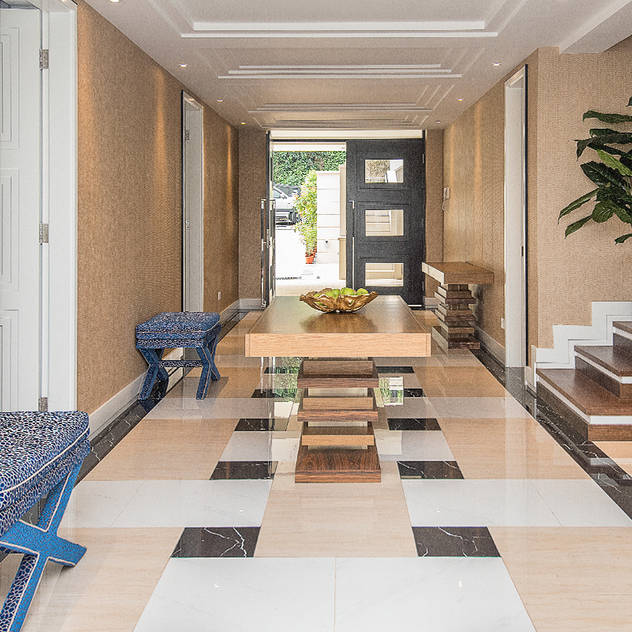 If you have the legroom, then some seating options can make all the difference to your entryway's functionality
13. Don't ignore your floor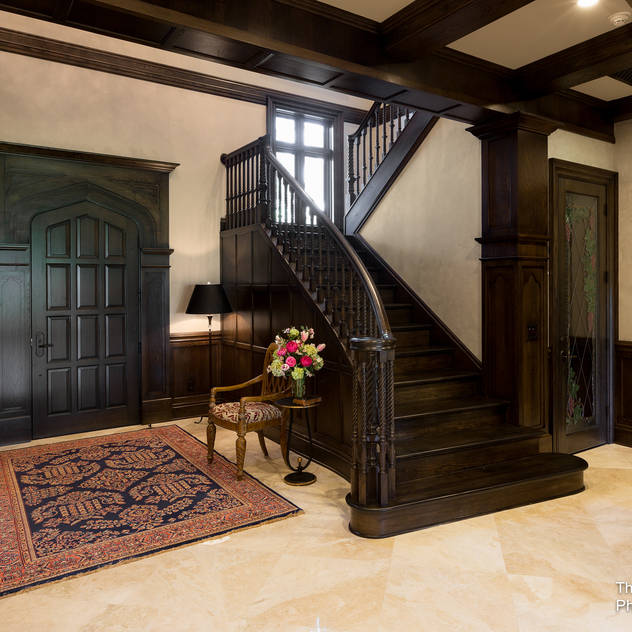 Lay down a rug for some floor detail plus a soft underfoot sensation. But just make sure you've invested in a welcome mat outside to also help minimise the dirt and debris being stepped indoors.
14. More space, more potential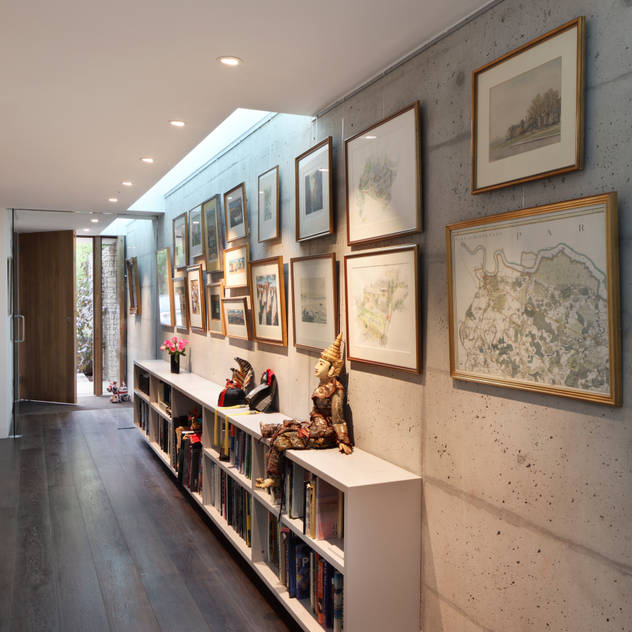 With this elongated entryway (which is more of a hallway), there's certainly space and potential for extra accessories and practical touches (like extra lighting or storage cabinetry/shelving).
15. A clean and calm design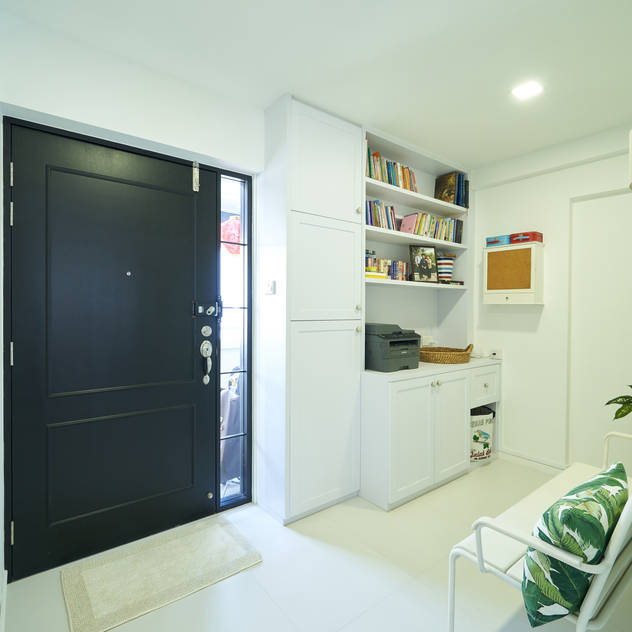 Floor-to-ceiling storage that beautifully blends into the background thanks to the clean and crisp colour palette.
Courtesy of Homify | Johannes Van Graan

Need more information? Fill in the form below and we will contact you!