Transfer volumes in South Africa have remained consistent between 300 000 to 350 000 a year since 2009, while prices are increasing again after a drop caused by Covid-19 in 2020, when volumes fell 16% compared to 2019 to 260 367.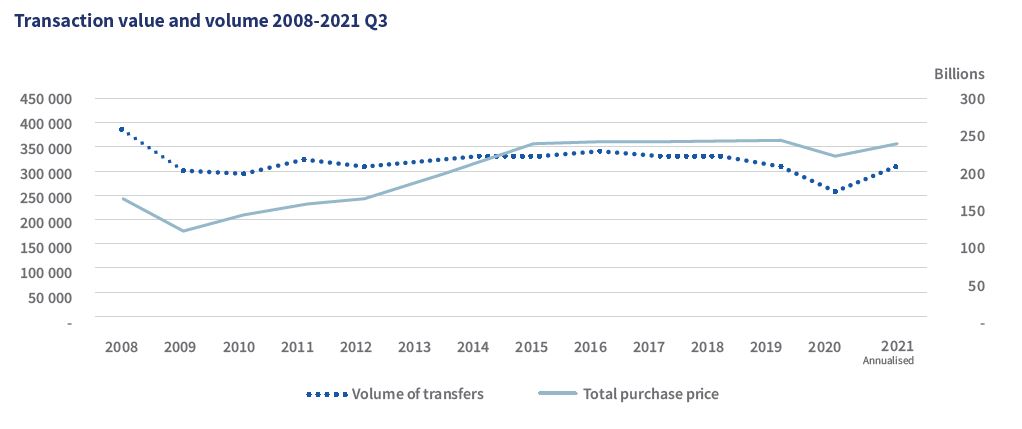 Transfers could return to pre-2020 levels if the current rise in volumes continues, and this could push annualized transfer volumes to 308 000 towards the end of the year.
The total value of purchases in SA has grown exponentially from 2009-2014 and at a faster rate than the volume of properties sold (due to the value band transacting).
Total sales have remained stable at around R240b since 2014, only slowing to R225b in 2020 as Covid-19 lockdowns took their toll.
Volumes per quarter
Q1-2021 volumes (graph below) are higher than they have been since the same period in 2018.
While Q2 volumes are not as high as they were in the same quarter in 2018, they are trending towards the 2019 volumes.

Before Covid-19 in 2020, the total purchase value (graph below) per quarter was +R60b and dropped to around R15b in Q2-2020, when South Africa was in hard lockdown. Since then, it has recovered rapidly and now sits at between R75b to R85b a quarter. Q2-2021 finished off at just under R80b. The higher values and flatter volumes suggest it's the higher value properties that are transacting. This in turn could indicate greater mobility in the higher wealth bands.

Which price bands are growing?
Properties in the R1m – R3m band have grown most significantly over the past 15 years, with the next strongest showing coming from the R3m+ band.
From 2008-2014 most transactions occurred in the R500k and below price band, although declining year on year and in 2015 houses in the R500k – R1m band became most dominant until 2018. The R1m to R3m band took over as the top selling category in 2018 and has fuelled the steep increase in the total purchase price.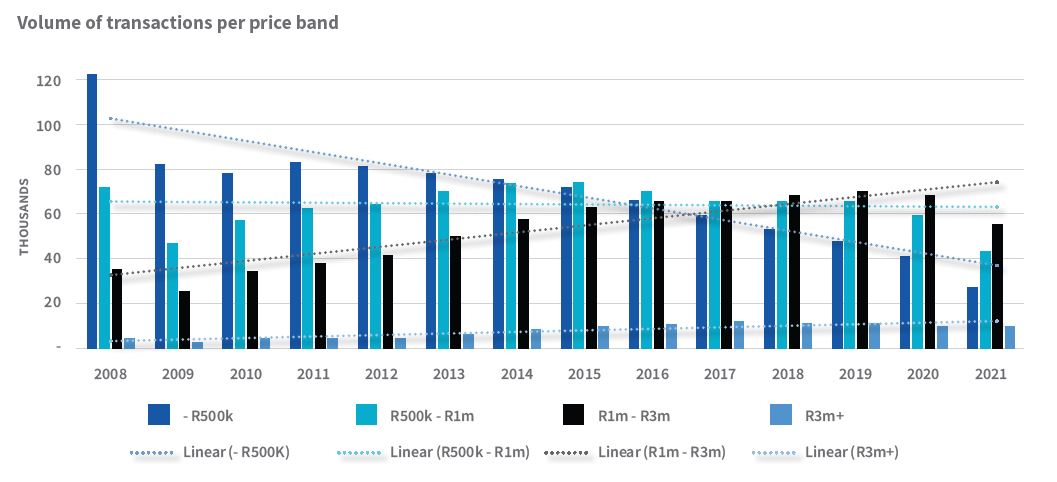 The declining sales in the less-than-R500k market reflects the tough economic circumstances, compounded by the effects of the pandemic. However, it also represents a potential opportunity for lenders if they are willing to provide funding solutions to this segment of the market when the economy eventually grows and employment levels rise.



Need more information? Fill in the form below and we will contact you!
OkCancel