You may have already seen it without even noticing – a kitchen made up of two different countertop styles. Heck, your very own kitchen might even be flaunting such a design! But while this may sound like an interior designer's worst nightmare, complementary (and sometimes even contrasting) countertop materials have shown to put a most unique spin on a kitchen's design and functionality.
So, just in case you were curious about how people mix and match different kitchen countertop materials (and why), this one's for you!
1. Focus on patterns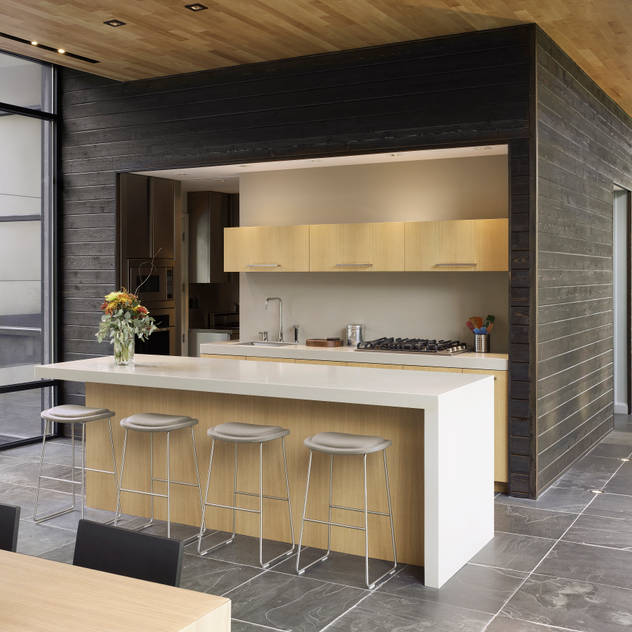 Two countertop designs with busy, opposing designs is just what you need for a clashing style. Take note of those materials' patterns and motifs before purchasing, as they can very quickly distract the eye and overwhelm your kitchen design. And should you find yourself falling in love with a certain material's pattern, counteract it with a solid-colored one or one that has minimal pattern.
hint: Some materials that typically feature a lot of pattern / movement include marble, granite, and other natural stones.
2. Coordinate with accent colours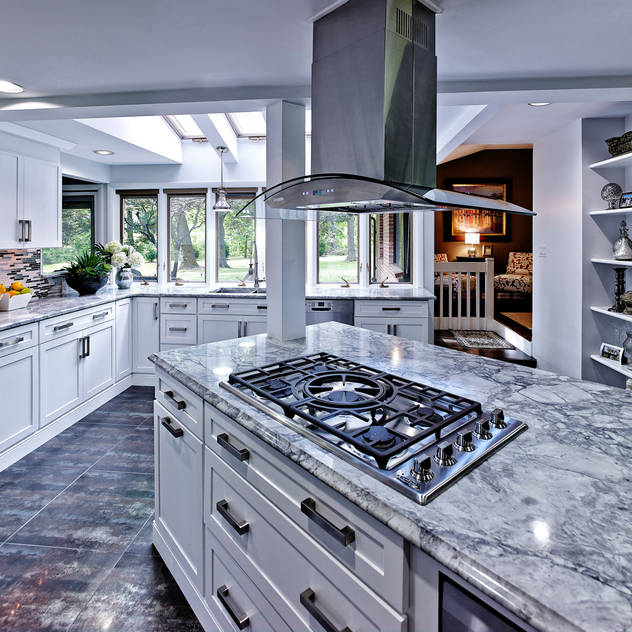 Anything from your art pieces to your plumbing fixtures can provide accent colors. If there's a particular shade that you like, go with a countertop design that either matches that color or includes it in its pattern.
Just remember that if you ever decide to change your kitchen's accent colors, your countertop design could look out of place.
3. Play with light and dark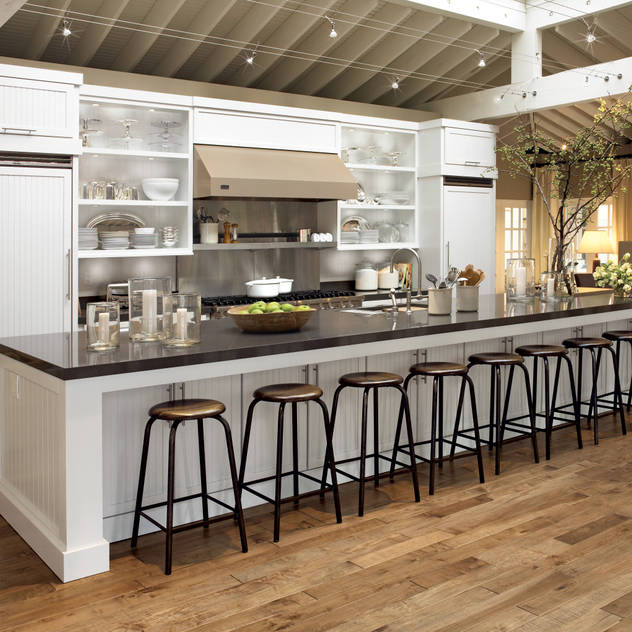 Contrast is key; thus, if your first choice is a darker countertop design, counteract it with a lighter one, especially if your kitchen is on the smaller side.
Keep in mind that there are multiple approaches with crafting a light-dark dynamic. For instance, if you have cabinets with mixed colors, adding a light countertop with light-hued cabinets (and vice versa) can ensure a more eye-catching design contrast. Or how about balancing your darker selection on the lighter cabinetry?
4. Craft your own accent piece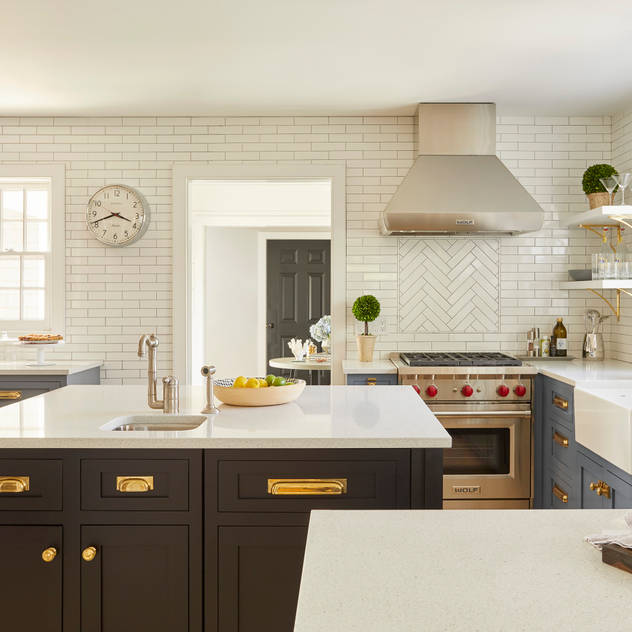 Whether you opt for a bold color tone or unusual pattern, there are many choices for a show-stopping kitchen design. But they also don't need to be over-the-top, for a subtle style that brings a touch of flair without overthrowing the space can be just as elegant.
hint: For an exceptional focal point, wrap your kitchen island with dramatic patterns and/or sweeping colors and let it stand out among a neutral/muted color palette.
5. Mix different materials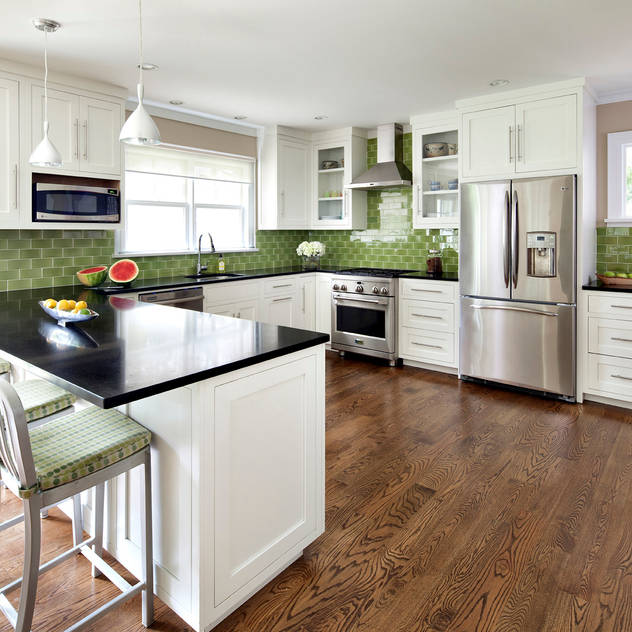 Not sure which material to pick from your top two choices? How about both, since it's not uncommon to see engineered surfaces (like porcelain and quartz) mixed with natural surfaces (like soapstone and granite)?
You even have the option of mixing two different stone types (like granite with travertine) as long as you remember that one cleaning agent might not be enough. Make sure you know about each material's cleaning guidelines to avoid spraying Windex, for instance, on engineered surfaces.



6. Wood and wood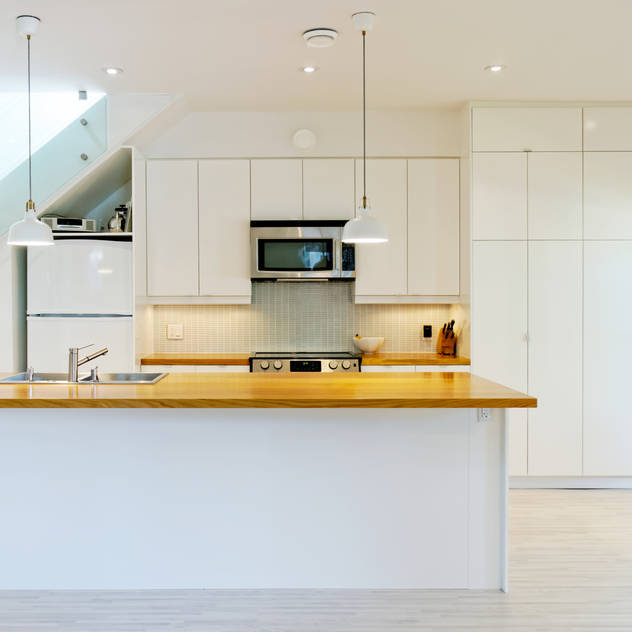 Ever thought of pairing up wood with something totally different, like natural stone or stainless steel? Yes, wood might remain one of the trendiest kitchen materials, but its practical upkeep requires regular oiling, especially when used near your stove and sink to prevent scorching and water damage.
So, to enjoy the beauty of wood without all the maintenance issues, try incorporating some into just the dining area and pairing it with modern, pale surfaces (limestone, perhaps?).
7. Pairing up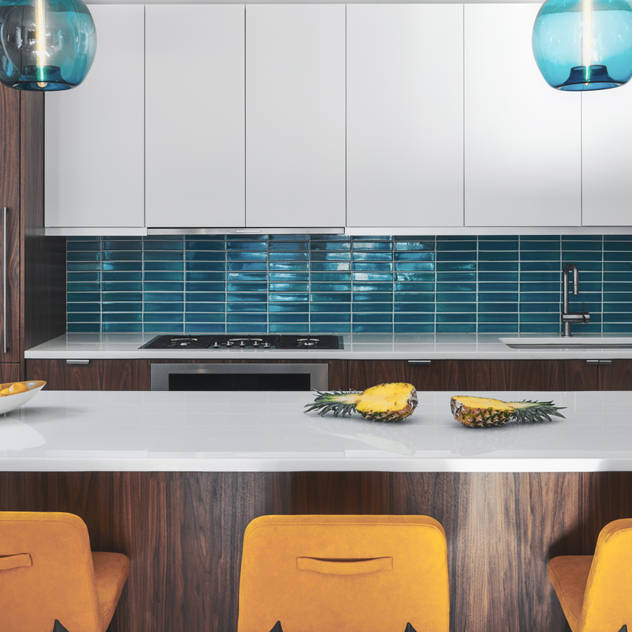 For a smart, uniform look, consider kitchen countertops and cabinets that share the same finish. This is also a clever way to stay away from an overcrowded look when blending different materials.
hint: When blending wood with colored surfaces and –cabinets, focus on the wood's tone. That color can vary greatly within wood countertops, with the result being either cool or warm.
8. Smooth and sleek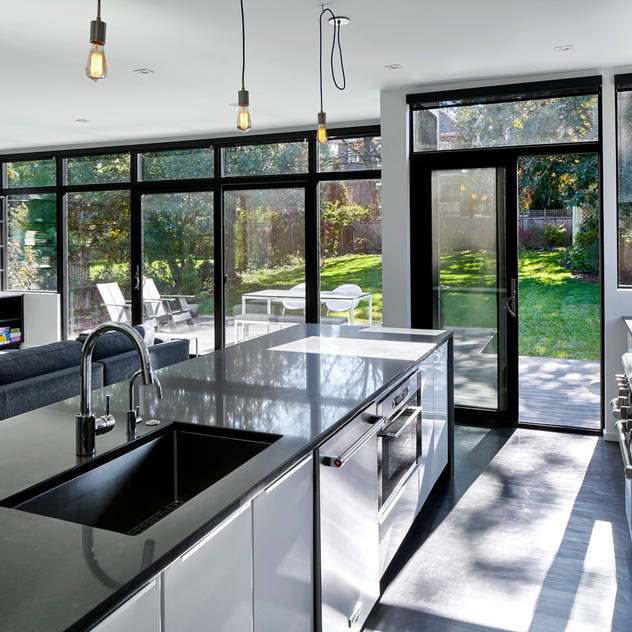 For a sleeker, more professional design, many homeowners and designers opt for stainlss steel countertops. That's due to them being very hygienic, plus able to withstand heat, water and stains. But bear in mind that steel scratches easily and is cold to the touch, which might not make it the best material for a busy family's breakfast bar.
Rather up your kitchen's functionality (and style levels) by pairing that steel with another smooth and sleek surface, like limestone, for the dining zone.
9. Materials and costs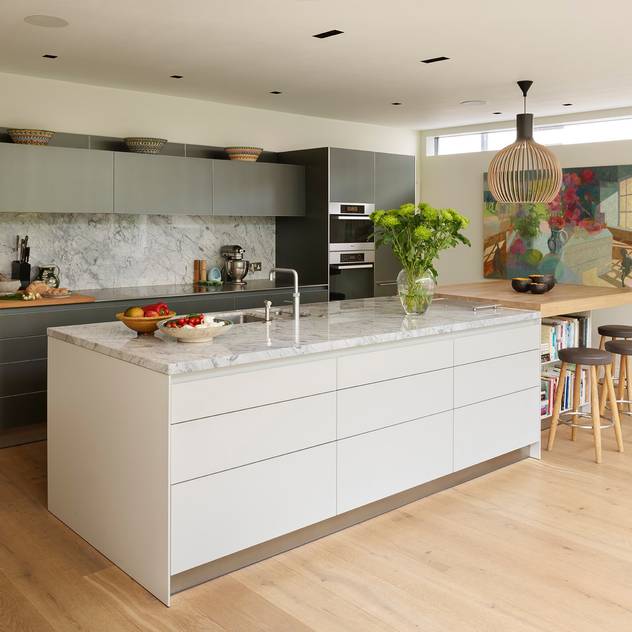 Marble has, again, become a trendy material to include in kitchen designs (is it really surprising considering its bold veining, dramatic patterns, and enticing color/pattern varieties?). But marble is also one of the more expensive materials. So, how about letting a generous chunk of that work surface be wood or laminate (or another practical, low-cost alternative) to help you cut down on your kitchen remodeling costs?
Courtesy of Homify | Johannes Van Graan

Need more information? Fill in the form below and we will contact you!
OkCancel