No two kitchens are alike. That makes perfect sense when one considers how people (and their lifestyles, and their choices in houses and décor… ) differ. But what does each and every single kitchen, regardless of size, need in order to be a successful working zone (which ALL kitchens are, first and foremost)?
Appliances, both big and small.
A convenient layout (Google 'kitchen work triangle')
Decent prepare like mixing bowls, measuring cups, knives, cutting boards, food-prep gadgets such as veggie peelers
Cookware (pots and pans)
Bakeware
Utensils
Dishware
Storage space(s)
Adequate lighting
The list goes on, but rest assured that should your kitchen possess the abovementioned, it is well on its way to becoming a smart and trusty culinary spot. Or the 'heart of your home', as a lot of people (especially professionals like Kitchen Planners), prefer to call the kitchen.
Now, let's take a look at some smaller kitchen designs, all of which are perfectly capable of functioning as cooking/baking/working zones, to be found right here in South Africa.
1. Quirky little Corner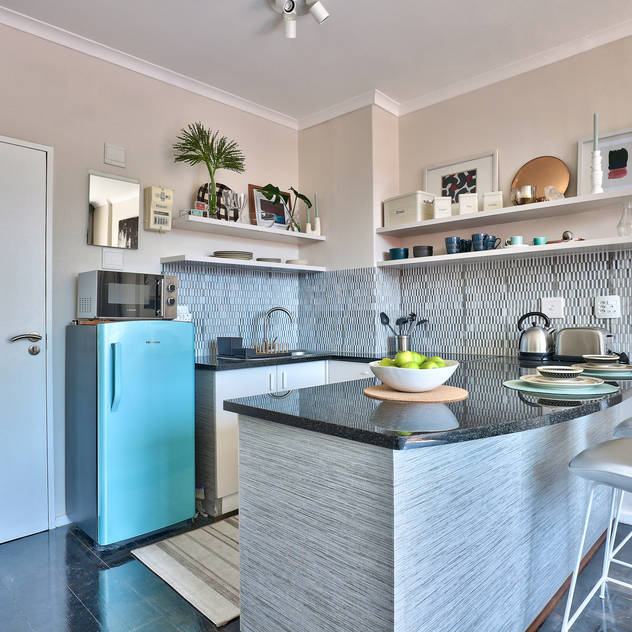 With its U-shaped layout, this modern kitchen makes the most of its limited legroom by charming us with retro-like vibes—especially with that delightful baby-blue fridge which looks to be straight out of the 1970s.
2. A Chick Look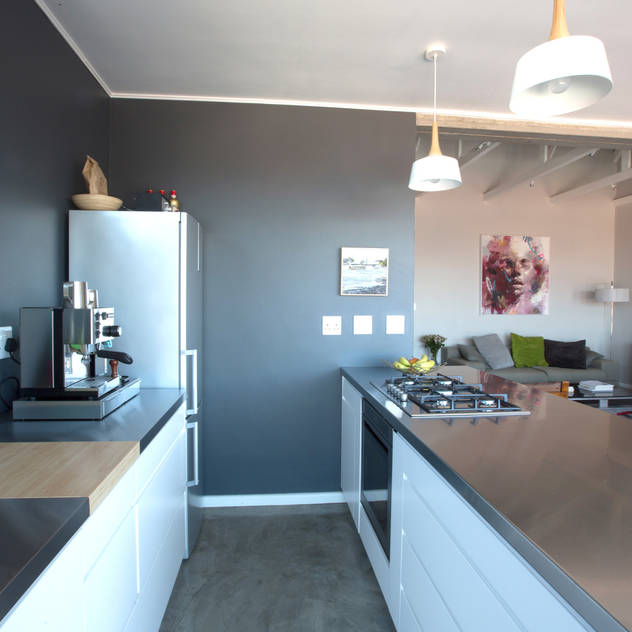 Isn't it amazing how something as simple as colour or material can influence an entire space? Do you believe this kitchen would have had the same oomph without those shiny steel countertops? Or the deep grey splashed on the wall?
3. Charming Splashes Everywhere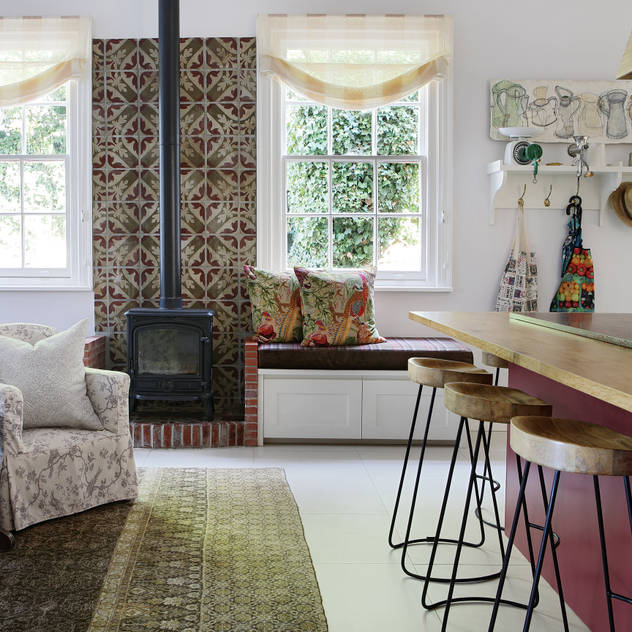 See the fantastic difference that (the right) colours and patterns can bring to a room? Although we're not privy to the entire kitchen, the decorations and furnishings (as well as the touches in-between) are enough to convince us of the eclectic style done right.
4. An exceptional design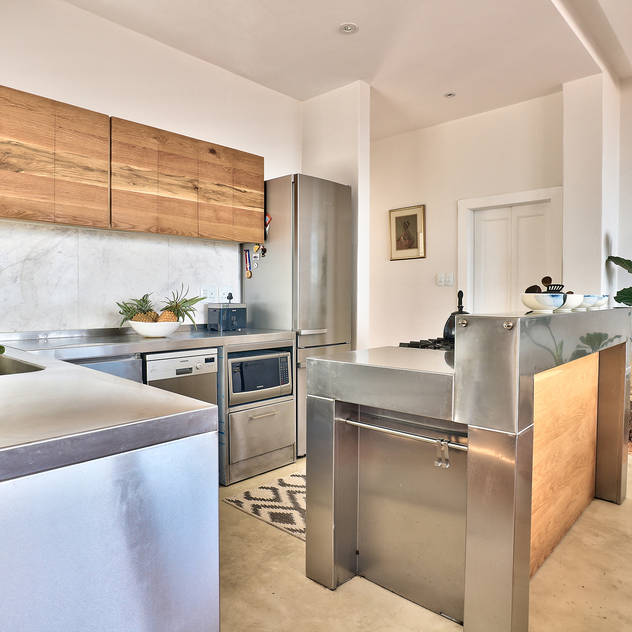 Fancy something different for your kitchen look? Timber (in a slightly weathered look); stainless steel; raw and natural materials (such as wicker and wood); a light/neutral dominant colour palette. The end result? This welcoming little kitchen coated in the rustic/eclectic style.
5. A family-style kitchen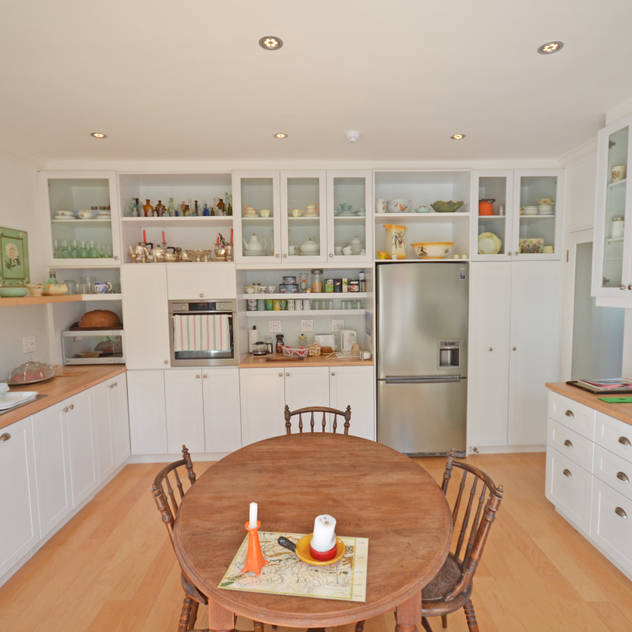 With its dining table (and matching chairs) right in the middle, this modern kitchen seems like just the sunny spot for a busy family having breakfast.


6. A wow-worthy entrance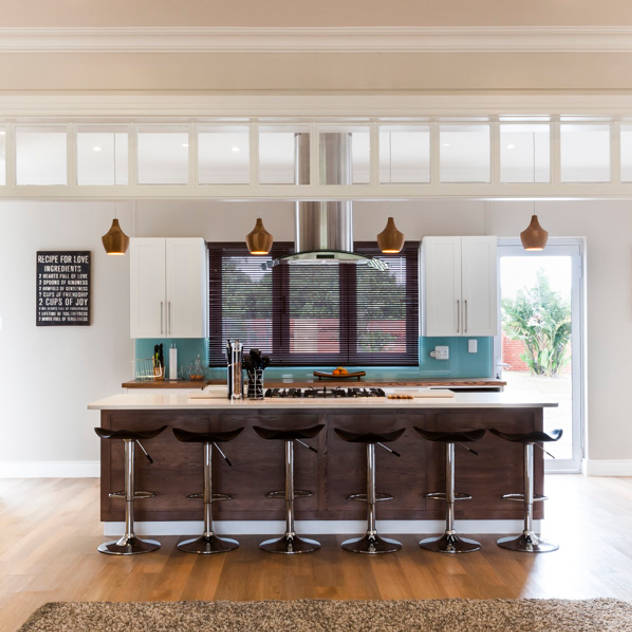 Granted, this might not be the smallest kitchen ever seen, yet we couldn't overlook this one due to its eye-catching entrance (modern archway) making the entire cooking space seem like a perfectly framed photograph.
7. A touch of class
We love how this terrific little peninsula/breakfast bar subtly separates the classic-style cooking zone from the adjoining seating/dining one. See the interesting shapes and patterns that, although small in quantity, manage to add so much character.
8. Marvellous monochrome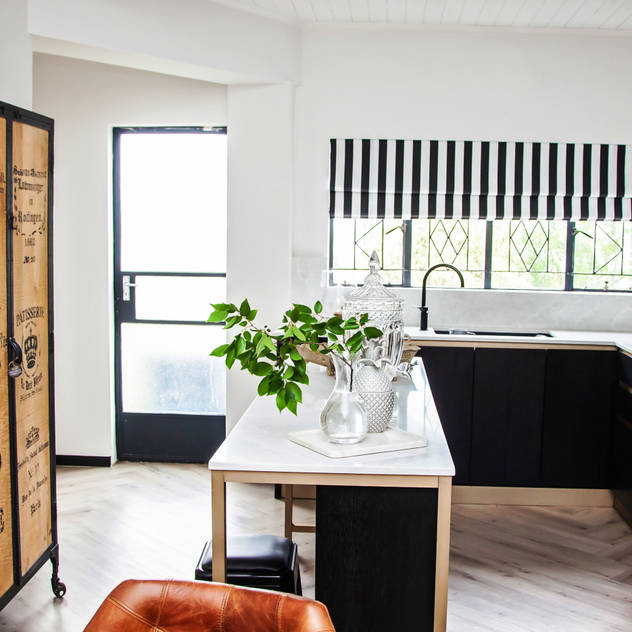 Sometimes you just need to abide by the 'less is more' motto. And then add one or two pieces (like that hard-to-ignore timber-door cabinet, or the dark-and-dramatic colours for the cabinets) for a design that surprises everyone.
9. A tranquil space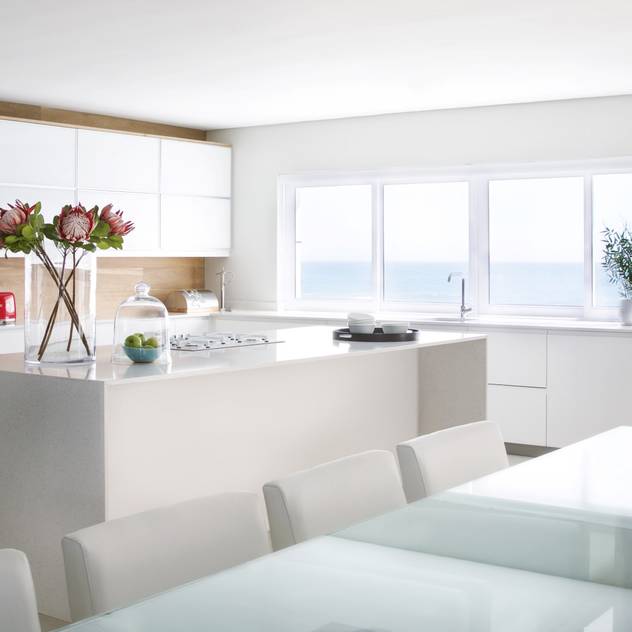 We are not saying that the ocean view makes this entire kitchen with its snow-white colours, clean countertops, and myriad of storage spots. But we are also not saying that the view makes no difference at all…
10. A cute little culinary corner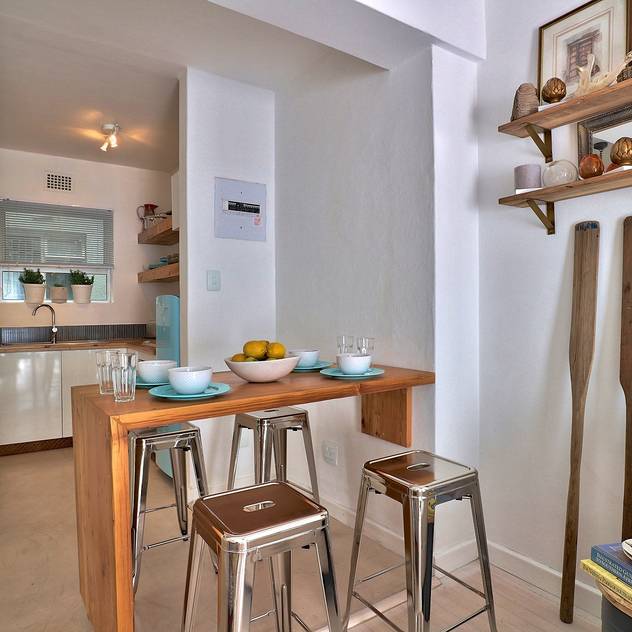 Always remember that there are various ways to induce a theme into even the tiniest kitchen. Anybody else keen on the beach after seeing the various nautical accessories sprinkled here?
Courtesy of homify.co.za Johannes Van Graan


Need more information? Fill in the form below and we will contact you!